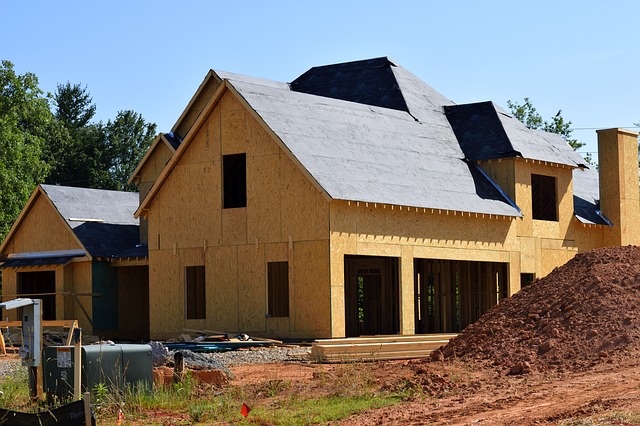 Homeowner's Guide to New Construction Roofing
There's a lot of excitement accompanying the decision to build a new home. Custom home design gets you exactly what you want, so your dream house really is within reach. New construction roofing involves a significant part of the planning and the expense. We'll walk you through what you need to know, and we're here in person if you have questions.
What's the Right Roof Design?
Your architect or drafting and design service should know the questions to ask to help determine the layout, square footage and major architectural features of your home. Size and floor-plan dictate some of your roof's features.
Your roof should go with the style of the rest of your home. You rarely see a Mansard roof on a log cabin style home, because the two styles don't really go together. One is rustic, the other comes from French Renaissance architecture.
A flat roof might make sense for your contemporary home design, and a gable roof goes with almost any architectural style. Your roof is such a large portion of your home's exposed exterior it's important to get it right. It will also be your home's main line of defense against the elements.
Roof Design Considerations
The shape of your roof is important, but so are other things like whether or not it will be insulated and if you intend to use part of the space for living and entertainment. Here are a few things to think about:
Pitch – If you want extensive attic space, you're adding a loft or you just like the look of a tall roofline, your roof pitch becomes extremely important.
Insulation – If you're not using the space between ceiling and roofline, you can insulate right above the ceiling. If you want exposed roof trusses, that's not an option. You'll have to insulate directly under the roof, which requires innovation.
Structure – Your roof has to be designed for the centuries. You don't want a structure that will start to sag or that can't hold up against strong East Texas winds. Hips, dormers and side extensions add to the challenge when it comes to providing a solid roof structure.
Rooftop features – If you plan to install skylights or anything else that attaches to your roof, your design is more complex. Anything that protrudes into your roof is a potential problem and needs careful planning and regular inspection.
Your future plans – Maybe right now you're building all the home you can afford, but you hope to later add a loft or additional living space. Plan now for what you might want to avoid problems later.
New Construction Roofing Costs
What does roofing cost for new construction? It depends on what builder you use. Some hire the cheapest roofers out there. There's always a hungry new guy willing to work for nearly nothing. It costs less to get a roof on the house, but could gain a lifetime of problems. Plus, if they go out of business a year or two after your home is complete, who will you turn to if you need repairs you thought were covered under your workmanship warranty?
What's better is to think long-term. Hire a builder who only works with experienced roofing experts (and other sub-contractors for that matter) who have a track record of excellence in your area.
The average cost to replace a roof in 2018 was between $6,500 and $15,840 on a 1600 square foot ranch style home. There was a wide variation depending on the roofing material each homeowner chose.
That's for a roof replacement. It's harder to give average new construction roofing costs because there's an even greater range. Think about the new construction you've driven by recently in our area. A 1300 square foot spec home has vastly different roofing requirements than some of the multi-million dollar homes under construction behind Fresh or in The Cascades.
If you're dealing with a true roofing expert, he or she won't be able to quote you a price per square foot without gathering additional information. If they give you a number off the top of their heads, that should be a red flag. They should first want to know how tall is your home, how steep is your roof, what type of shingles you'll use, how long are overhangs etc.
Add-ons and Remodels
If you're adding additional square footage to your home, you'll need additional roofing. You want the addition to look like it was part of the original home design.
Roofing is a major part of making everything flow together. Poor design makes your addition look like an afterthought. The shape of your addition's roof and the roofing materials you choose should be as close to the original home's as possible.
Roofing Options
Roof extension – Sometimes you can extend the existing roof to cover your new space. A roof extension is the simplest option if you're adding to the gable end of your home. That won't work for everyone, since most additions are at the back of the home where there's space.
Shed roof – You may be able to cover your roof addition with a single, sloped line that connects to the original structure. It's budget-friendly but doesn't always look like part of the original design.
Gabled roof – When you were in first grade and you drew a house like a rectangle with a triangle sitting on top, you were drawing a gabled roof. This is a practical, simple way to make your addition look like it belongs with the rest.
Dormers – This type of roof structure projects out at 90 degrees from your existing roof. Use it to make extra space and add windows when you're turning attic into a loft.
New Construction Roofing Experts
Estes Roofing offers construction services. Our experienced contractors offer building construction, add-ons, framing, kitchen and bathroom renovations, demolition and other construction. When you're ready to build or remodel, we'll be there from start to finish. Get in touch to receive an estimate for your next construction project.