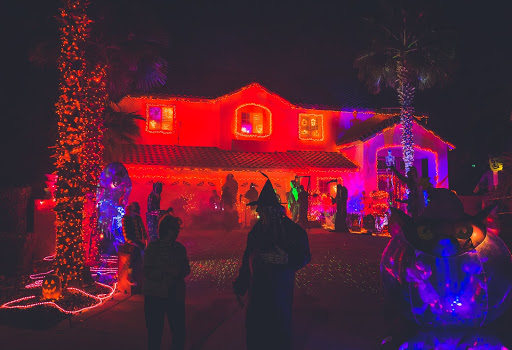 East Tx Roofing and Fall Decor
As September winds to a close, fall is right around the corner. It's still blistering hot, but signs of autumn are all around. The leaves are beginning to turn and some mornings there is a cool breeze beginning to sweep through the trees.
October holds one of the most anticipated holidays. The kids are getting excited. They're beginning to plan their costumes and everyone can already smell the pumpkin spice. But before you run for the Halloween decorations, check out these quick tips for decorating your East Tx roofing.
Don't Work Alone
Decorating your roof is a fun and creative experience, but it can also be dangerous. Getting help can cut the risk in half. Having a second set of hands to hold your ladder and an extra pair of eyes to watch your back can save your life. It's also an opportunity to spend time outdoors with people you love.
Have Your Roof Inspected for Damage
Any time you plan to add decorations to your roof, make sure everything is clean and at peak condition. A damaged roof might do more than just put a dent in your decorating plans. It could also put you at greater risk of injury.
Call a roofing expert to inspect your roof for damage before you start decorating. Estes Roofing provides free roof inspections at your convenience. Call to schedule an appointment today so you can address any roof repair needs ahead of time.
Plan Ahead
One of the most exciting things about decorating is shopping for the decorations you can use. Figure out what you want to use for your Halloween decorations and exactly where you want to put them before you begin. This will save you time overall, and also improve your chances of completing the job without a safety mishap. If you don't plan, you may have to get up on the roof more than once, increasing your potential for an accident.
Look at the things you already have before shopping for more. Lay out your lights and cords. Untangle them and plug them in to make sure all your lights come on. 
Try to buy all the same brand of lights. Otherwise colors might not match and you won't be happy with the look. LED lights may be a little more expensive, but they are worth the extra cost. They are a cooler, brighter color, don't overheat and can save money on the electric bill.
When deciding on decorations for your home, be sure to buy all the tools you will need to secure them to your roof. Assemble tools and supplies before you begin, including your decorations and safety equipment.
Use Safety Equipment
If you've owned your ladder a while, take a good look at it before you use it to get on your roof. Ladders can wear down over the years. If the wooden ladder in your backyard is rotting or broken, it may be time to get a new one. Aluminum or fiberglass ladders are best fit for the job. Get one that is taller than you think is necessary so you don't come up short.
Work gloves are another great thing to have on hand. The roof may be rough or dirty, and you don't want to injure yourself with the tools you are using. You can buy a sturdy set of work gloves for a relatively low price at many different locations.
Talk to the friend or family member who agreed to help you decorate and make sure they know what to do in case there is an emergency. If you or your helper are injured, there should be a clear plan in place.
Hanging Lights from Your Roof
Overall, try not to walk around on your roof more than necessary. It isn't worth a broken arm or worse. You also risk damaging your roof shingles when you walk around, because your steps knock asphalt shingles loose and dislodge nails and sealing strips.
Don't lean your ladder against the gutters. They could dent or break, leading to a costly bill from the hospital and a gutter repair.
Check out all your lights and cords before you get up on the ladder. Make sure that all your lights and cords are approved for outdoor usage so there aren't any electrical mishaps.
Light clips are best for hanging strings along your roofline. Screws, nails, or staples can damage your roof, and they're also much more difficult to remove. Plastic light clips are designed to hang off your gutters or brick and can hold many different types of decorations.
Attach the light clips to the strand of lights before you climb on your roof. That will save you time on the ladder and keep you from having to fumble around to attach clips. Try to work with shorter strands of lights to begin with so you aren't managing long, cumbersome strands.
Simple Decorating Ideas
Lights – Hanging colorful lights from your roof is a great way to start decorating your home. Buy them in purple or orange to bring a spooky feel to the air.
Place strobe lights or flickering LED candles around your yard for an exciting and unique image.
Cobwebs – Buy inexpensive cobwebs at the craft or Halloween store. Couple them with spiders and strew them on your roof, bushes, and trees. Add a tombstone or two and you're good to go.
Boarded windows – Attach old boards at odd angles across your windows to give your home an abandoned look (use the smallest, most shallow nails possible. You just need them to stay for about a month).
Window silhouettes – Make creepy shadows out of black paper or purchase them for an easy decoration. Place them in your windows to scare trick-or-treaters passing through your neighborhood this Halloween.
Skeletons – Wrap them in cobwebs or hang them from a giant spider's web. Dangle them from your second-story window. Any way you display them, skeletons can be a great addition to your Halloween excitement.
Decorating your home for Halloween can be a challenging project. With these helpful tips, you can be sure that your roof stays intact and you are safe when you decorate. Contact us for all your roofing repair and roof maintenance needs no matter what the season.