Commercial Roofing
Superb Commercial Roofing for Your Business
We are fully Insured and equipped to handle large projects and have a long list of clients that we have provided new roofing systems for. We take pride in our ability to stay on schedule, and have always delivered our finished product on time and as scheduled.
From the safety training we provide our employees on a bi-weekly basis, to the care we take in making sure that all of our trucks and equipment are in perfect working condition, we leave nothing to chance. We make sure all aspects of your commercial project are taken care of. We provide a supervisor on site with a minimum of 20 years experience under his belt. All of our workers are qualified and well trained with an average of 15 years of roofing trade experience.
It pays to have a high-quality roof for your business. For something as important as your business, there's no reason to leave the strength of your roof to chance. Make sure your roof has the strength and durability that you want your commercial business to have! For a new roof or roof repair, Estes Roofing is a fantastic way to start off on the right foot. If your roof is in need of repair, you have even more reason to call. You know you can't afford to lose a day of business. Roof problems can interrupt your workflow. Repairing them yourself can cost valuable time and money, and you run the risk of making the problem worse!
Estes Roofing and Construction provides commercial roofing and industrial roofs to customers in Tyler, Longview, Bullard, Flint, Troup Whitehouse and the greater East Texas area. Our attention to detail, in-depth customer service, and quality materials has enabled us to become a leader in the commercial roofing business.
Our Commercial Roofing Services Include
Slate Roof
Industrial Roofing
Commercial Roof Repair
Flat Roof
Commercial Roofing Options
If you are planning to begin construction on a new building, or if you need to repair or replace the roof on an existing building, you want to consider the four main types of Tyler commercial roofing systems available.
Thermoplastic Roofing
Thermoplastic roofing (TPO) systems are enjoying a tremendous increase in popularity among commercial roofers. They are made from an extremely durable material with low-temperature flexibility and a tolerance for high temperatures. TPO roofs are very resistant to UV rays, chemical exposure and ozone. Their lifespan can be in excess of 20 years, and they are also highly resistant to punctures, fire and heavy winds.
EPDM
Ethylene propylene diene monomer (EPDM) roofing is one of the longer lasting commercial roofing systems. It has superior durability and is remarkably versatile. An EPDM roofing system is usually easier to install, repair and maintain than almost any other type of commercial roof.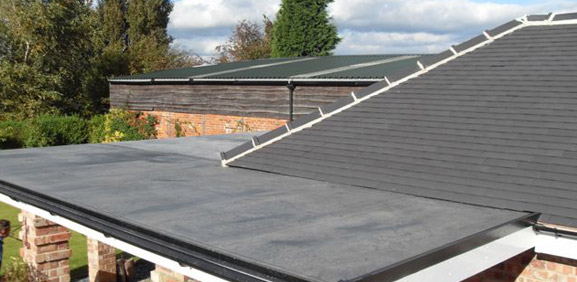 PV Solar Panels
With America's current desire to go green and find reliable sources of renewable energy, it is no surprise that many building owners have decided to go with a photovoltaic panel system. PV solar panels are either installed over the current rooftop or used with glass, membrane or roof-mounted tiles. They gather sunlight, which is converted to energy that is then used to supply power to the building. PV panel roofs can help conserve energy and lower the increasingly high cost of power.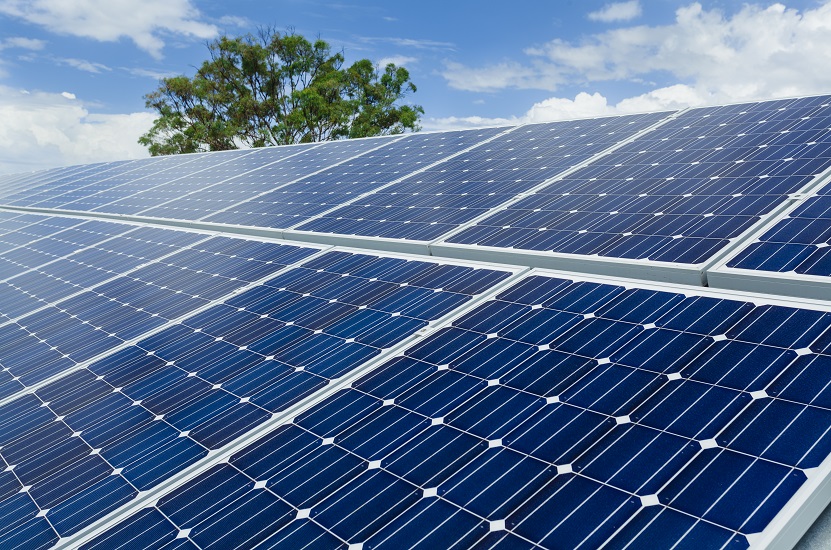 Green Roofs
Green roofs have experienced their greatest surge in popularity over the last few years. Green roofs are typically flat or low-slope roofs that are partly or completely covered with vegetation and soil that has been placed on top of a waterproof membrane. Green roofing systems have been proven to lessen the urban heat island effect by absorbing heat. They also radically improve the roof's insulation value. A green roof can extend the lifespan of the roof by as much as 200 to 300 percent while reducing heating and cooling costs considerably.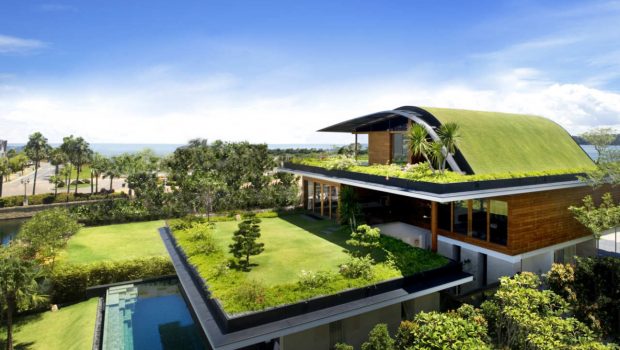 Estes Roofing and Construction uses their years of experience as a commercial roofing expert to make sure that commercial roofs are installed correctly and always meet current energy guidelines. According to modern energy efficiency standards, a commercial roof is required to earn a green Energy Star rating.
Our highly trained commercial roofing teams stay up-to-date on the latest installation procedures and techniques for commercial and industrial buildings. We can repair or replace a damaged roof on an apartment complex, condominium, office building, warehouse or any commercial building. We are experts at reroofing any type of commercial structure, and we know the correct materials to use for flat or low-slope roofs. We also provide Tyler gutter clean out and Tyler gutter installation services.
Roofing Done Right the Very First Time
Too often do we hear the story of customers being overcharged and under serviced by other roofing companies. Estes Roofing and construction has an extensive record of being straightforward and dependable with our clients. Schedule an appointment with us to find out how we can help!
Tyler Apartment Roofing
Nearly every apartment complex has an on-site maintenance crew that takes care of the property's daily repairs. But in the event of a serious roof leak, storm damage or new roof installation, building owners and apartment site managers call in Estes Roofing and Construction to handle the heavy lifting.
Not just any Tyler roofer can deal with large-scale roofing. Our experience and success doing multi-family projects puts us on the top tier as the Tyler commercial roofing company of choice. Handling a building filled with residents takes skill and finesse. We do everything from ensuring that tenants can get safely to and from their homes and vehicles to reroofing a giant low-slope or traditional roof and working with inspections and apartment managers.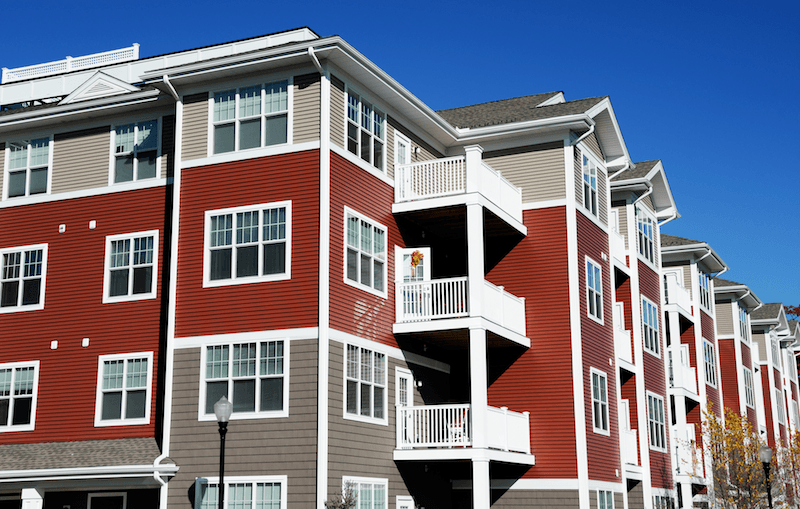 We can Handle Emergency Apartment Roofing Repairs
It is critical to get started on the repair or installation quickly. Our team can mobilize almost immediately if you have an emergency. It is just as important to finish the job in a timely manner. The quality of the workmanship has to be top notch and our talented, experienced team and ongoing inspections ensure the project will be done properly and on budget.
After the emergency is past, it is important to keep your roof in excellent condition. A regular preventive maintenance plan is the best option for keeping your apartment building dry and your tenants happy. Nobody wants to live in a building that has a leaky roof. We handle the responsibilities of commercial roofing professionally so your apartment complex can continue doing business as usual.
Solutions for Every Roofing Situation
Whether you have a steep-sloped roofing system or a low-slope roof, you need a reliable roof company that is available when you need them. Regardless of the type of apartment building that you have, we have solutions for any roofing problems you encounter. Here are a few of the services we offer.
Remedial repairs
24-hour emergency leak services
Restorations
Roof replacement
Retrofits
Gutter installation
Waterproofing services
Roof maintenance
We provide continuous support and the highest quality, timely service. We know how to handle roofing jobs for apartments, townhouses, condominiums, cooperatives and homeowner associations. Replacing a roof on an apartment complex is one of the most challenging projects a roofer can perform. Some things that increase the difficulty are poor drainage, defective construction, limited roof access and inadequate attic ventilation. We schedule inspections and remain in constant contact with owners, managers, the board of directors and construction managers.
Professional Roofing
We offer a full range of professional roofing, construction, and building experience for all of your residential and commercial roofing needs.
Satisfaction Guaranteed
Customer satisfaction is a top priority for Estes Roofing and Construction, to prove it we provide a Workmanship Warranty for up to 5 years.
Affordable Price
From our free roof inspections to our full insurance assistance with all claims, Estes Roofing strives to be your affordable roofing contractor.
Tyler Multifamily Complex Roofing
We handle each multi-tenant roofing job on a case-by-case basis. We have experience handling roofs for all types of housing complexes, and we have a proven method and plan in place for new installations as well as emergency repairs. Here is how we normally proceed on large housing complexes.
First, we inspect and price the job to calculate an accurate budget estimate. We can provide more than one estimate based on different types of materials for any multi-family dwelling, including apartments, town-homes and condominiums. This gives you the chance to carefully weigh your options along with the budget.
Second, we will write a report detailing the scope of the work that we will do for you. We will list the necessary materials and the steps that need to be followed to install or replace your roof. The final estimate will be included with this report.
We Can Install Any Roofing System
Estes Roofing and Construction is certified to install almost any manufacturer's shingle roofing system. We can handle specialty roofing systems like wood shake shingles, metal roofs and slate roofing. No matter how big your building is, we can repair the roof or replace it entirely. We complete our projects quickly without taking short cuts, which leads to the least amount of inconvenience for your tenants. All of our work is backed by our labor guarantee and manufacturers' warranties.
In addition to shingles, we also offer flat-roof services.
Rubber is a popular choice for large flat roofs because it is inexpensive and can literally last a lifetime.
Thermoplastic membrane is also economical. The single-ply covering incorporates heat-welded seams to assure protection from leaks.
Eco-friendly cool roof coatings like green roofs that feature plants and gardens planted in a soil base are environmentally friendly and good for the neighborhood.
As a Tyler commercial roofer, we also install, repair and maintain the following types of roof coverings:
Slate
Asphalt shingles
Tile shingles
Torch modified
Built-up or hot tar
Rubber
All types of metal roofs
We provide the following services for housing complexes:
Tyler gutter installation
Preventive maintenance
General leak repair
Installing additional roof drains
Flash new penetrations to existing roofs
Vegetation and debris removal
Roof assessment reports
Tyler gutter clean out
Emergency repair and storm response
Repairing or replacing the roof on a housing complex is not a job you give to the local handyman. Only a roofer has the skill, experience and right tools to do the job quickly and correctly. We will assess your roof's condition to find any and all damage or potential problems. In some cases, all it takes is a few simple repairs followed by regular maintenance to give your roof extra years of life. On occasion, you may need to replace the entire roof. We are ready to perform the appropriate services that are needed.