Tyler Gutter Repair & Replacement
There's little doubt that gutters are an important part of the water mitigation system on any property. They control the flow of moisture and keep your roof from becoming a lakebed full of debris and problems. But, and any property owner can attest to this, they take work to keep functioning smoothly. Yearly maintenance is a must if you want your system to work appropriately – not to mention keep it from damaging your property's exterior. Estes Roofing & Construction has been repairing and replacing worn gutter systems for over 20 years and see it as just an extension of our overall roofing expertise.
We have many years of experience with all types of roofing systems and carry the finest products backed by the industry's best warranties. Our technicians are specially-trained to install and repair our entire range of products. Tyler Gutter Repair & Replacement
Roofing doesn't have to be difficult – call Estes Roofing & Construction. Plus, it's 100% guaranteed!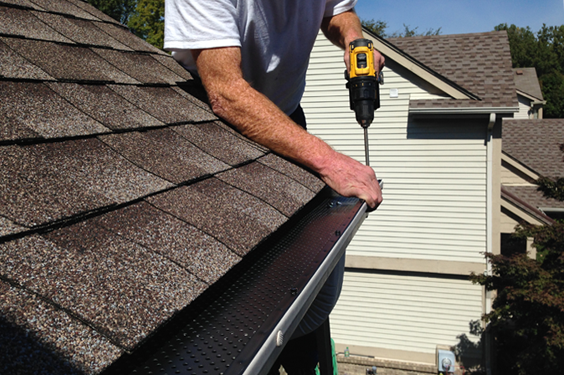 We are Gutter Repair and Replacement Experts
Are your gutters not working properly? Do you have birds nesting up there? Are there gaps between the gutter and the structure? Why wait another minute? The staff at Estes Roofing and Construction is ready and available to take your call and answer all your gutter-related questions.
The Best Gutter Products & Service
We provide our customers with an extensive selection of materials and colors to choose from and back all of these products with the manufacturer's warranty as well as our own. We usually recommend aluminum systems since they stand up to abuse relatively well for their cost and repairing them is a breeze. We never recommend low-quality materials and do our best to explain the pros and cons of whatever our customer is considering. It's important to remember that for every dollar you save by using inferior products, you're going to spend two dollars repairing them. It's a rule of thumb you can live by in roofing. Never try to handle your gutter system by yourself. There are far too many dangers that you might not even know exist – like power lines.
Why Choose Estes Roofing and Construction?
If you're in need of a reputable, experienced and locally-owned roofing contractor, there's only one clear choice in Tyler – Estes Roofing & Construction. Our expert roofers will deliver the finest finished product without bloated costs or hidden fees. Our professional quote will be the price you pay, and our inspection process – which is free of charge – will ensure all the work needed is identified before anything is done.
Our reputation is everything to us, and we stand behind all of our work, so don't waste time with amateurs, call us for the finest service to be found in the region. Remember, when you need new residential roof construction, you need Estes Roofing & Construction.
More than 20 years of experience in Tyler
Family-Owned & Operated Local Roofing Contractor
Multi-Year Recipient of the Small Business Excellence Award – Roofing Contractor
Industry-Leading Products & Materials from the Biggest Names in Roofing.
Ongoing Training & Continuing Education Courses for Team
Fully Licensed, Bonded & Insured Throughout the State of Texas
Thousands of Satisfied Tyler  Roofing Customers
Tyler Gutter Repair & Replacement