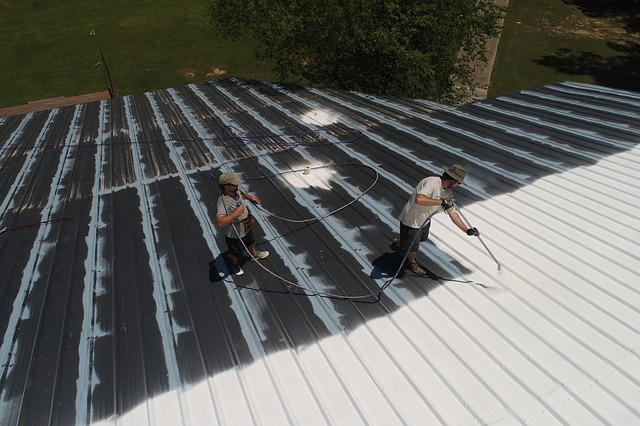 Commercial Roof Maintenance Basics
Unexpected expenses always come at the absolute worst possible time. That seems especially true in business. Plus, things cost more than they do on the residential side. Everything from phone service to air conditioner replacement comes at an additional charge. Business owners choose commercial roof maintenance to manage roofing expense and prevent unexpected surprises.
What Commercial Roofing Maintenance Involves
When you rely on a trustworthy roofing contractor to develop and implement a roofing maintenance plan, they take that worry off your plate. On a regular schedule, they perform inspections, clean away debris and perform other maintenance that slows natural roof deterioration.
Typically they'll also clean your gutters, repair any damaged flashing and perform needed repairs. Instead of those things costing you extra, they're included in your plan. You also have someone you trust to call if there's a tornado, heavy hail storm or other extreme weather incident to make sure your roof is still in tip top shape.
7 Benefits of Commercial Roof Maintenance
The biggest benefit of commercial roof maintenance is that it saves you money in the following ways:
Extend longevity – Preventative maintenance costs much less than a roof replacement. If your roof is properly maintained, it could extend your roof life by several years. During that time, have those funds to grow your business. The longer you can go between roof replacements, the less building repairs cost you per year.
Protect what's inside – If water gets in, it damages your business materials or your tenants' property. You won't just have to pay for roof repair, but to replace what was damaged.
Pay less for utilities – A well-maintained roof is an energy-efficient roof. Climate-controlled air stays in and your HVAC units don't work as hard to keep up.
No down time – Your employees stay healthy and engaged because there aren't leaks. Your building doesn't have any of the allergens, mold and mildew water causes. You don't have interruptions due to emergency roof repairs or roof replacement.
Don't leak customers – If customers see a dripping ceiling or smell damp, moldy air from an unseen source, they're less likely to come back.
Avoid after-hours repair expenses – You don't want to be trying to find a roofer at the last minute on a holiday weekend. It costs more and is a huge headache. With regular inspections, potential problems get corrected before they turn into leaks.
Save your time – Your time is worth money. The less you spend dealing with emergency repairs, unexpected leaks and costly roofing issues, the more money you save.
Typically, a roof warranty requires at least one annual inspection by a qualified contractor. If that's the case in your situation, commercial roof maintenance protects your warranty.
You'll also sleep better. When you know your roof is in good shape, you don't worry what's going on at work every time there's a heavy rain.
Commercial Roof Maintenance Cost
We base roofing costs on square footage. Commercial roof maintenance is no different. If you have a large warehouse, your quote will be higher than it would be for a small convenience store. These services come standard:
An intensive inspection of your entire roofing system, scheduled at your convenience
A thorough clean-out for gutters and drain baskets
A printed or emailed report that details what we did, where we made repairs and what you can expect from your roof in the future
As your roof nears its lifespan, we'll help you figure out what options work best for replacement, how to budget for it and what's the timeline for re-roofing.
You can elect to pay in advance so your commercial roof maintenance cost only occurs once a year. We'll remind you when we're coming, but otherwise that's one less thing you have to think about.
Factors Affecting Cost
Square footage affects the cost of commercial roof maintenance, but so do a few other circumstances.
If your roof is in bad shape when we start your maintenance plan, there may be additional up-front cost. Years of neglect take their toll. We can usually help, but there's more involved.
A complicated roof layout complicates maintenance. If some areas require skydiving to access, that creates a challenge for maintenance workers. We have a lot of experience working on complex layouts, and we're dedicated to worker safety.
Most Important Aspects of Commercial Roof Maintenance
Business owners sign up for a commercial roof maintenance plan because they want their roof to last longer so their money goes farther. For that to happen you need consistent inspections and consistent repairs.
We recommend at least two inspections a year. When you work with us, we'll come in the fall after all the trees have finished shedding leaves and debris. We'll make sure your roof is ready for winter storms and your gutters are clear. Then in the spring, we'll do the same again.
The difference between our company and others is we have a process for roof inspection. Our experts don't just climb up and take a look around. We have a checklist, so we keep tabs on key areas of your roof over time. We thoroughly inspect the following:
Gutters, scuppers and drains – commercial roofs have additional drainage features because of their large surface area. We look for damage from standing water, check and replace seals as needed and clean screens and strainers.
Units attached to your roof – If you have an air conditioner, skylight, solar panels or anything else installed on your roof, there are penetrations and seams. We'll check those failure-prone areas to make sure you won't have problems in the months ahead.
Roof area – We'll walk the entire surface area of your roof to check for damage or deterioration.
Flashings and joints – Severe weather and age create problems here. We'll identify and fix deterioration before it turns into a leak.
East Texas Commercial Roofing Experts
Estes Roofing provides commercial roofing installation, repair, replacement and maintenance. Get in touch for a free roof evaluation today.