How to Find the Right Roofing Company
You realize that there is no way to delay purchasing a new roof any longer. Whether your roof has been damaged by fallen tree branches, has been slowly degraded by the sun's UV rays or has sustained wind damage, a visit from a residential roofing company is in your immediate future. There are some questions you should ask any prospective roofing company to make sure you select the best company for the job.
Start by asking your friends and family what roof company they have used in the past. Search the Internet for companies that service your area, then check their online reviews. When you have narrowed down your search to the top three roofers, contact them, and set up an appointment for an estimate. Nearly every roofing company will give you a free, no-obligation estimate.
When the roofing company's representative arrives, they will probably examine your roof from the ground level with binoculars. If there is an obvious problem, they might have to climb up on the roof for a closer look. They will do some measuring and ask you a few questions regarding the type of materials you want for your new roof. They might ask if you want a radiant barrier or if you want an energy-efficient cool roof. After hearing your preferences, you will be given an estimate for the repair or replacement.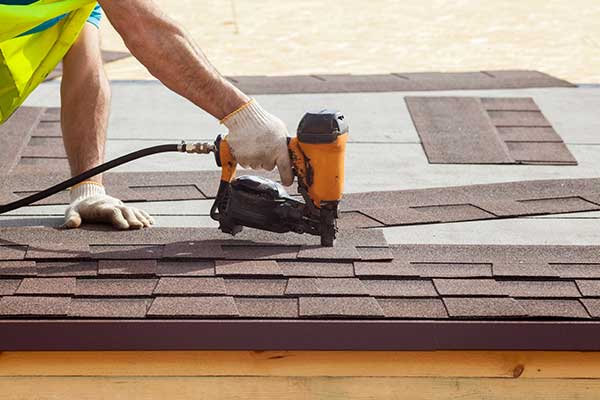 What to Ask Your Roofing Company
Now, it is time for you to ask the roofer some important questions.
The first question to ask is if the company is fully bonded and insured. If they are not, scratch them off your list. You want your roofer to be bonded and insured in case something goes wrong.
Ask how long the company has been in business. Try to find a roofer with at least 10 to 20 years in the business. A firm with that much experience has seen it all and will know how to handle any situations that arise.
Request some recent nearby references. Be diligent, and call them all. Drive by their properties to see how their roofs look.
Find out who will be supervising the job. If the estimator is not the on-site foreman, get their name and phone number, and call. Ask if they be on-site for the whole job. Ask about their team and how long they have been together.
Ask about the anticipated start and completion dates, how they will approach the project and make sure to get everything in writing.
Find out if their company provides general roofing services or specializes in certain services, such as green roofs. If you want your roof to be out of the ordinary, find a specialist.
Ask if you will need a work permit. An experienced roof company will know what permits are required and how to get them.
Roofing Done Right the Very First Time
Too often do we hear the story of customers being overcharged and under serviced by other roofing companies. Estes Roofing and construction has an extensive record of being straightforward and dependable with our clients. Schedule an appointment with us to find out how we can help!
Selecting A Qualified Tyler Roofing Contractor
Buying a new roof is a major investment, and it pays to choose the right roofing contractor the first time. Before your search begins, familiarize yourself with roofing basics so you can more easily communicate your needs. This will also help you know quality roofing systems when you see them and will make it easier to make sense of the bids or proposals you receive.
Roofing System Components
Residential roofing systems consist of these components:
Roof Covering – Typically in the form of shingles, slate, tile or metal, plus underlayment.
Sheathing – Sheet materials or boards fastened to the rafters.
Roof Structure – The trusses and rafters that give the roof its shape.
Flashing – Materials, typically sheet metal, that are installed at valleys and joints to prevent water seepage.
Drainage – Strategically shaping, sloping or laying out a roof to ensure optimal drainage.
Choosing a Roof System
The top factors to consider when choosing a roof replacement include durability, cost and style. The main decision you must make is which type of roof covering to use. Options include:
Asphalt Shingles – The most popular option, they may be reinforced with fiberglass or organic materials. Some are coated with copper or zinc to ward off algae growth. Others, typically called architectural shingles, are laminated and textured for extra style.
Wood Shingles or Shakes – Typically made of cedar, southern pine or redwood, this covering is aesthetically pleasing.
Tile – Made out of concrete or clay, tile is very durable but extra heavy, so it cannot be used on all roofs unless they are properly reinforced.
Slate – Available in many grades and colors, slate is exceptionally durable and has an historic look.
Metal – Most commonly used on low-slope roofs, metal shingles or panels last for decades, are lightweight and are exceptionally weather-resistant.
Proper Planning and Choosing a Roofing Company
Proper planning is the key to ending up with the right contractor and right roofing system. When looking for a roofing company, consider these points:
Insured, Licensed and Bonded – Make sure the roofing contractor you are considering is fully licensed, bonded and insured.
Financially Stable – Ask for proof of financial stability before signing anything.
Proven Track Record – Ask for references, and follow up on them. A little online sleuthing should also reveal a lot.
Written Proposals – Request a detailed written proposal. This is where the planning really comes into play. The proposal should include details like the timeframe of the job, information about warranties that are included, payment terms and more.
Finally, do not be swayed by a drastically low bid. This tends to be a huge red flag. Reputable contractors charge fair prices–not lowball ones. That is not to say you should not be concerned about price. Just do not get taken for a ride based on an unrealistically low bid.
If you are looking for a roofing contractor with a proven track record and years of satisfied residential and commercial clients, Estes Roofing and construction has you covered. Contact us today to learn more or to schedule your free estimate.